The White House has set an ambitious goal: to end cancer as we know it. And Freenome is honored to be a part of the team that will play an integral role in reaching that goal. Freenome CEO Mike Nolan was one of the business leaders invited to Washington, D.C., on July 25, 2022, to join other companies, patient groups, universities, and foundations focused on colorectal cancer working together to forge new partnerships and launch new programs as part of President Joe Biden's Cancer Moonshot. 
Launched in 2016 with the mission to accelerate the rate of progress against cancer, the initiative was reignited in 2022 with the renewed goal to reduce the death rate from cancer by at least 50% over the next 25 years.¹ The President and First Lady Jill Biden also issued a call to action on cancer screening, which dropped significantly during the pandemic. They urged the public and private sectors to join together to help make screenings more accessible and available to all.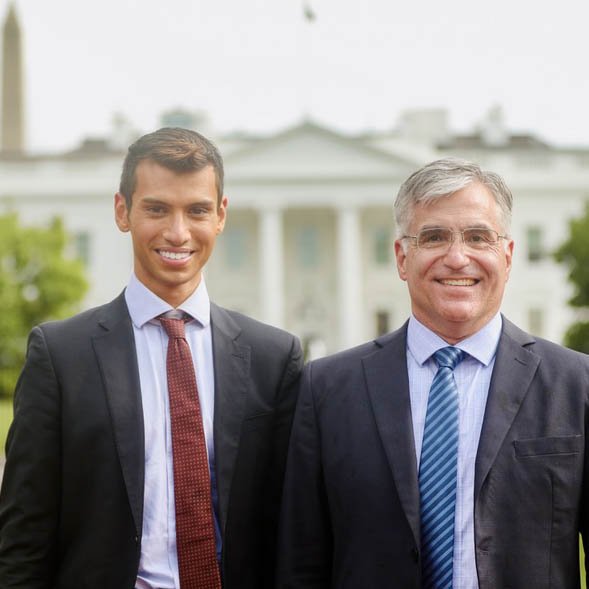 That's where Freenome comes in. Colorectal cancer is the second most deadly cancer for men and women combined, with communities of color seeing even higher incidence and mortality rates.² Yet when colorectal cancer (CRC) is found early, it can often be cured. No one knows this better than Nolan. "I lost my best friend to colorectal cancer," he said. "He was diagnosed at age 40." When Nolan asked his own doctor for CRC screening, however, he was told he was too young. He pushed for a noninvasive test, which found markers of possible CRC.
National CRC screening rates are lower than they should be. Despite the 80% in Every Community initiative launched by the National Colorectal Cancer Roundtable (NCCRT), less than 70% of adults ages 50 to 75 are up to date with colorectal cancer screening in the U.S. For underinsured and uninsured Americans, that number is even lower: only 44% of this population is up to date on CRC screening.³
And those are pre-COVID-19 numbers. The pandemic has had a devastating impact on colorectal cancer screenings: the total number of colonoscopies and biopsies declined nearly 90% in April 2020 compared to the same period in 2019, according to an analysis by Komodo Health and Fight Colorectal Cancer (Fight CRC), the national nonprofit advocacy organization that convened the group invited to the White House.
Accompanying Nolan to Washington, D.C., was Riley Ennis, Freenome co-founder and chief product officer. He said, "It's inspiring to see so many industry and government stakeholders come together. We're very lucky to be a part of this initiative, as well as focusing on targeting a plan by March 2023, which is Colorectal Cancer Awareness Month. Freenome has a big opportunity to play a leading role in this overall Cancer Moonshot initiative."
"We're known as a company that is innovating relentlessly," said Nolan. He noted that thanks to the hard work, dedication, and strong platform built by the entire company, Freenome was recognized in D.C. with distinction and respect from the other industry, advocacy, and government leaders. "We had a major role in that meeting. We were at the center of the table and able to contribute significantly. And we're just getting started."
¹"Fact Sheet: President Biden Reignites Cancer Moonshot to End Cancer as We Know It," The White House, February 2, 2022, https://www.whitehouse.gov/briefing-room/statements-releases/2022/02/02/fact-sheet-president-biden-reignites-cancer-moonshot-to-end-cancer-as-we-know-it/.
²"Colorectal Cancer: Statistics," Cancer.net, May 2022, https://www.cancer.net/cancer-types/colorectal-cancer/statistics.
³"Fight CRC Alongside Advocacy and Business Leaders Meet with the White House," Fight Colorectal Cancer, July 19, 2022, https://fightcolorectalcancer.org/blog/fight-crc-alongside-industry-advocacy-leaders-meet-with-the-white-house/.